Treat Yourself To Individualized Instruction In Our Small Group Fitness Classes
Tired of getting lost in the crowd? Blaring music in a dark room with flashing lights not for you? Rather do literally anything else than have some random half naked person scream generic motivational quotes at you? Us too, that's why we created the small group training program at Uptown Movement. Join us and take on the best Small Group Fitness classes in town.
Our small group training is unique in that we use a level based system, guaranteeing that you will continue to progress. These classes are ideal for anyone who wants to really learn how to improve movement quality and strength.
In our entry level Explore classes, we focus on teaching you the basic movement patterns, including squatting, deadlift, pushing, pulling and rotating. These classes consist of general mobility and flexibility warm ups, coordination and basic power exercises followed by a strength circuit and finished with some primal movements or conditioning. Throughout the class there will be lots of personal feedback and education about the exercises you are doing.
The Explore classes will help you build:
Strength
Coordination
Movement Awareness
Balance
Flexibility
Bodily Awareness
Once you have practiced the basic movement patterns with great form and decent weight, you are ready for our second level: Evolve classes.
The Evolve classes are programmed to focus on making you stronger and more mobile than you thought possible. In these classes we will teach you more complicated movements and you will use more advanced tools like maces, barbells and sandbags. Every 4 to 6 weeks the Evolve program will change so that your body can adapt and stay progressing by receiving a different stimulus.
Finally we have the Expand classes, which take hard work and practice, but once you achieve this level you will have an in depth knowledge of training, including how your body reacts to certain movements and loads. You will be able to build your own workouts and use the gym on your own with confidence.
Members in higher levels are free to take classes below them, in fact we encourage members to take them to get refreshers on the basics every now and then.
In each and every class, you'll be surrounded by a handful of new friends and supporters and you'll enjoy an individualized approach to every single exercise.
Our Small Group Fitness classes are perfect for everyone here in New York . We're helping people of all fitness levels find success and we can't wait for you to be next.
Fill out the short form on your screen to learn more today!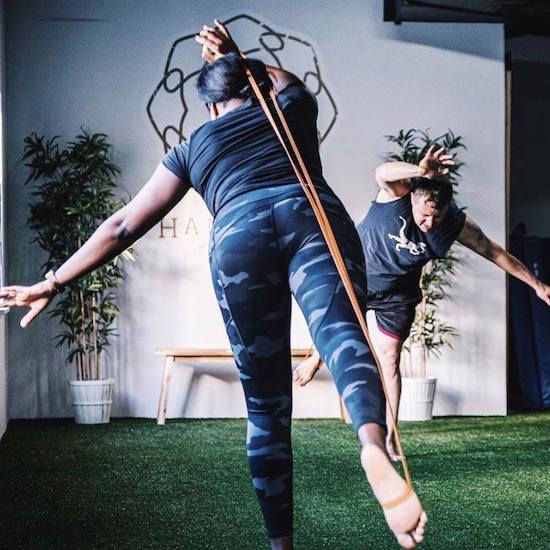 What Makes Our Small Group Fitness So Special?
The simple truth is this: most group fitness classes are designed to pack as many bodies into one room as possible.
Well at Uptown Movement, that's not us.
Our Small Group Fitness Classes are designed to give hands-on coaching and individualized attention to each and every person in our program. Our coaches know all our members, along with their injuries, and work hard to customize your programs and educate you on adapting movements to your unique anatomy.
When you join us here in New York , you can take on:
Tailored training strategies for your current level
Ongoing motivation and accountability through the process
A proven path to sustainable success
The unwavering support of everyone around you
Why Is This System Right For You?
At Uptown Movement, it doesn't matter if you're a lifelong athlete or someone trying it out for the very first time. We are not impressed by how you look or what you can do. We care about your desire to learn and grow your movement and exercise routine, regardless of where you are starting.
In our Small Group Fitness program, we work hard to meet you where you are and help you take steps forward every single day.
We're giving you the chance to take on a dynamic workout routine that is designed specifically for your skill set.
Come see us today and learn how to:
Do fun and challenging exercises with kettlebells and barbells without getting hurt
Avoid or stop pain while moving or exercising
Work out with a group
Be a part of an inclusive, non-intimidating culture
Find more balance
Learn More About Our Small Group Fitness Classes Here In New York
If you're ready to take your training to the next level, come see us here in New York and take on the best Small Group Fitness classes in The City.
We're proud to work with people of all abilities and we can't wait to show you what we've got.
Fill out the short form on your screen or join us here at Uptown Movement and see it all for yourself.